Teens & adults
From 13 years old
Divided in group levels, instructors adapt their lessons and teaching methods according to your needs, the whole in a relaxed and welcoming atmosphere. These group lessons take place only in the morning during school holidays.
Beginners: lessons in the morning

From 1er Degré level: lessons in the afternoon or in the late morning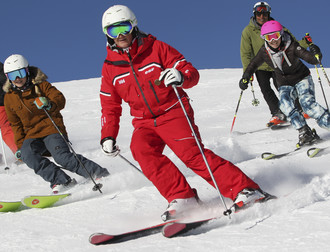 TIMETABLESSchool holidays

Times
christmas
february
Beginners
10AM-12PM
9AM-11AM

1er Degré
2PM-4PM
11AM-1PM
Prices for group lessonsFrom Sunday to Friday

6-day weekly card
147 €
One 2-hour lesson
40 €
Please be sure to have a ski lift pass

IMPORTANT: ESF reserves itself the right to group two lessons with less than 4 children.