Club Piou-Piou
FOR CHILDREN BETWEEN 3 AND 5 years old
ESF Guzet has recently built an on-snow playground so that the youngest can learn how to ski in a safe and well-thought-out space. It is dedicated to children from 3 years old, for them to live their first gliding experience. Located on the panoramic viewpoint of Prat-Mataou, the on-snow playground benefits from a fantastic sunlight all day long. It was arranged in a specific way as to facilitate the learning process and the discovery of the discipline. Children acquire basics of skiing and will learn very quickly to be autonomous on the easiest slopes of the ski resort.
Club Piou-Piou is the starting point of the learning process and will give children all the basics of skiing.
This enclosed and secured area has its own ski lifts: a 30-meter long magic carpet covered by a tunnel and a 50-meter long rope tow.
The space is rearranged every morning: moguls, installation of several equipment, set up of evolution spaces, ...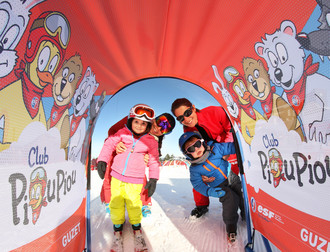 TimetablesSchool holidays

Times
ChRistmas
February
Morning
10AM-12PM
9AM-11AM
11AM-1PM

Afternoon
2PM-4PM
1PM-3PM
3PM-5PM
Off-peak periods: please contact us

Prices for club piou-piouFrom Sunday to Friday

MEdal included
6-day weekly card
137 €
On 2-hour lesson
29 €
Ski lift pass is not necessary

Please dress your child appropriately with warm and waterproof clothes (warm gloves, ski mask or sunglasses,
ski suit and sunscreen…) and give them a small snack for the break.
Wearing a helmet is not compulsory but strongly recommended.
The different equipment enables children to take part in various activities; these activities are thought out depending on their age and the educational goal that is: knowing how to stay balanced, how to slow down and how to change directions.

The Kindergarten is the tool serving the educational goal, in tune teaching methods used at the French ski school ESF. However, we can always adapt the teaching depending on the coherence with your school.

We alternate the days between activities and calmer times. A small chalet can be available and welcome up to 20 children.
There are 3 major goals: being autonomous (children should be able to safely ski on their own from point A to point B), progressively moving around and discovering the mountains and having the basics in safety rules.