Children
From 6 to 12 years old
For complete beginners or children who wish to improve their technique, ESF Guzet offers group lessons depending on the level of children.
Your child will therefore make progress in a group of his or her level with an instructor who will adapt to the group's needs. We teach in a friendly and fun atmosphere so that children can make quick progress !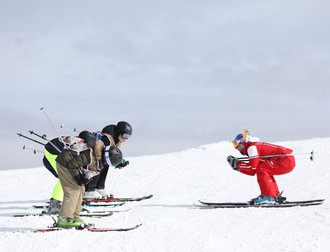 TimetablesSchool holidays

Times
Christmas
February
Morning
10AM-12PM
9AM-11AM
11AM-1PM

Afternoon
2PM-4PM
1PM-3PM
3PM-5PM
Off-peak periods: please contact us

Prices for Group LessonsFrom Sunday to Friday

MedaL included
6-day weekly card
147 €
One 2-hour lesson
35 €
Please be sure your child has a ski lift pass
IMPORTANT: ESF reserves itself the right to group two lessons with less than 4 children.